DEVELOPMENT OF MATHEMATICAL LEARNING DEVICES USING PROBLEM SOLVING STRATEGY IN STAD-TYPE COOPERATIVE LEARNING MODEL ON PYTHAGORAS THEOREM MATERIAL
Romi Pirdaus

Pendidikan Matematika, Universitas Riau
Abstract
This research produces a product in the form of a mathematics learning device using the STAD type cooperative learning model on the Pythagorean Theorem material using problem solving strategies. The development model used is a 4-D model, namely Define, Design, Develop, and disseminate. The research instrument used is instrument validity and practicality. The validity instrument is in the form of a validation sheet to assess the validity of the learning tools, namely the syllabus, lesson plans, and LAS. The practicum instrument is a student response questionnaire to assess the usefulness and ease of use of LAS. The Learning Toolkit developed will be validated by three validators and revised according to the validator's suggestions. Subsequently, a small group trial was conducted with six students. The average value of syllabus validation is 3.76, lesson plans are 3.82, and LAS is 3.63, so the learning tools are categorized as very valid. The average result of the practicality of LAS is 85.95% in the very practical category. Based on the results of data analysis, it was concluded that this study produced a product in the form of mathematics learning tools using problem solving strategies with the STAD Type Cooperative learning model on the valid Pythagorean Theorem for Syllabus, RPP, and LAS. and practical for LAS.
Downloads
Download data is not yet available.
References
Akbar, S. (2013). Instrumen perangkat pembelajaran. Remaja Rosdakarya.
Cahyo. (2013). Pengaruh penerapan strategi Pemecahan Masalah dalam pembelajaran matematika terhadap kemampuan pemecahan masalah matematis siswa kelas VII SMP Al-Azhar Syifa Budi Pekanbaru. Universitas Riau.
Hartono, Y. (2014). Matematika strategi pemecahan masalah. Graha Ilmu.
Novita, R., Zulkardi, & Hartono, Y. (2012). Exploring primary student's problem-solving ability by doing tasks like PISA's question. Journal on Mathematics Education, 3(2), 133–150. https://doi.org/10.22342/jme.3.2.571.133-150
OECD. (2019). PISA 2018 results (Volume I): What students know and can do. In OECD: Vol. I. OECD Publishing. https://doi.org/https://doi.org/10.1787/5f07c754-en
Sariati, U. (2014). Strategi pembelajaran. Remaja Rosdakarya.
Siregar, H. M. (2019). Analisis kesalahan siswa dalam menyelesaikan soal tes kemampuan berpikir kreatif matematis materi Lingkaran. AKSIOMA: Jurnal Program Studi Pendidikan Matematika, 8(3), 497–507. https://doi.org/10.24127/ajpm.v8i3.2379
Siregar, T. J. (2021). Peningkatan kemampuan pemecahan masalah matematis dan keterampilan sosial siswa SMP melalui pembelajaran Kooperatif tipe STAD. AXIOM : Jurnal Pendidikan Dan Matematika, 10(1), 97. https://doi.org/10.30821/axiom.v10i1.9265
Slavin, R. E. (2015). Cooperative learning : teori, riset dan praktik. Nusamedia.
Solfitri, T., & Siregar, H. M. (2021). Developing integration techniques module to improve mathematical creative thinking ability in Integral Calculus. Jurnal PAJAR (Pendidikan Dan Pengajaran), 5(2), 296–305. https://doi.org/http://dx.doi.org/10.33578/pjr.v5i2.8221
Sumartini, T. S. (2016). Peningkatan kemampuan pemecahan masalah matematis siswa melalui Pembelajaran Berbasis Masalah. Mosharafa: Jurnal Pendidikan Matematika, 5(2), 148–158. https://doi.org/10.31980/mosharafa.v5i2.270
Trianto. (2011). Model pembelajaran inovatif-progresif konsep, landasan, dan implementasi pada Kurikulum Tongkat Satuan Pendidikan KTSP. Kencana.
Wardhani, D. K., & Rajagukguk, W. . (2015). Meningkatkan kemampuan pemecahan masalah dengan pembelajaran Kooperatif tipe Student Team Achievement Division. Inspiratif : Jurnal Pendidikan Matematika, 1(1), 10–20. https://doi.org/10.24114/jpmi.v1i1.8913
Yuniarti, D., Bagus, I., Surya, G., & Wiyasa, I. K. N. (2018). Pengaruh model Student Teams Achievement Divisions (STAD) berbantuan Media Mind Mapping terhadap hasil belajar IPS siswa kelas V SD Gugus III Kuta Utara Badung Tahun Ajaran 2017 / 2018. Mimbar PGSD Undiksha, 6(1), 1–7.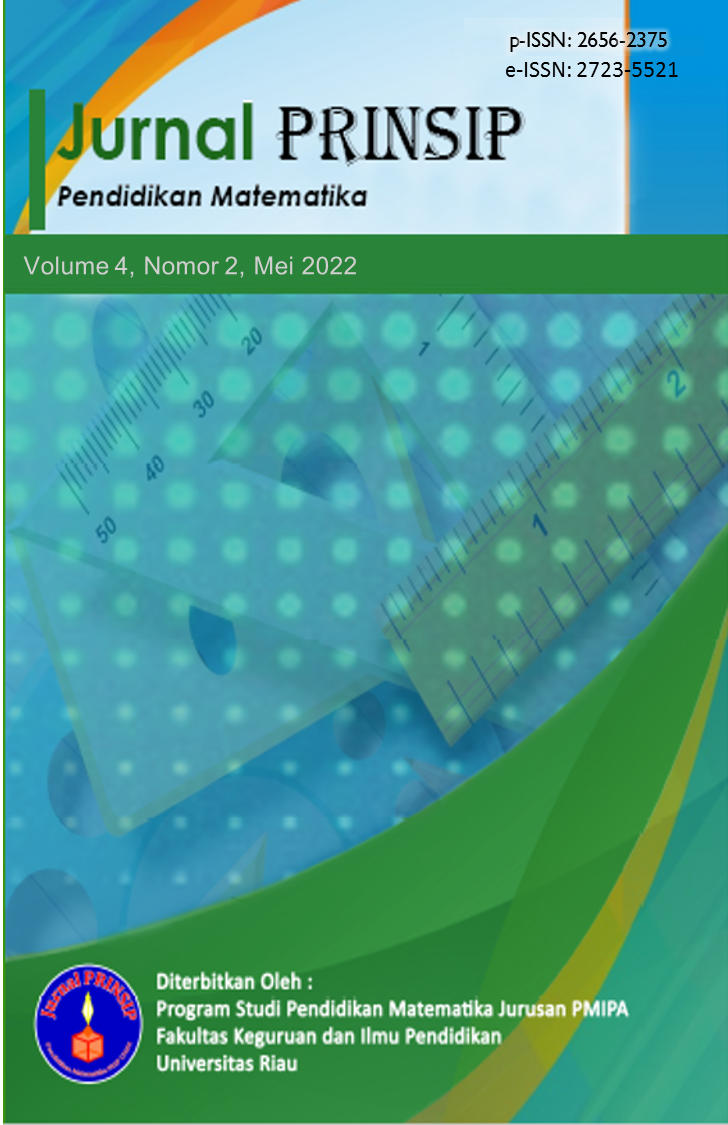 Copyright (c) 2022 Jurnal Prinsip Pendidikan Matematika
This work is licensed under a Creative Commons Attribution-NonCommercial-ShareAlike 4.0 International License.