DEVELOPMENT OF LEARNING TOOLS FOR ALGEBRAIC FORMS BASED ON PBL MODELS TO FACILITATE KPMM FOR CLASS VII STUDENTS OF SMP/MTs
Nur Almira

UNIVERSITAS RIAU

Susda Heleni

Pendidikan Matematika, Universitas Riau
Keywords:
KPMM, Learning tools, Problem-Based Learning
Abstract
This research produces a product in the form of a mathematics learning device using a Problem-Based Learning model on Algebraic Form material to facilitate students' Mathematical Problem-Solving Ability. Learning tools developed in the form of syllabus, lesson plan (RPP), and student worksheets (LKPD). The development model used is a 4-D model, where the stages are defined, designed, developed, and disseminated. The validity of the instrument is in the form of a validation sheet to assess the validity of the learning tools, namely the syllabus, lesson plans, and LKPD. Practical instruments in the form of student response questionnaires to assess the usefulness and ease of use of LKPD. Three validators will validate and revise it according to the validator's suggestions. Then a limited group trial was conducted with eight students. Based on the results of the validation data analysis, it was concluded that this mathematics learning tool was very valid, with an average score of 3.79 for the syllabus, 3.56 for lesson plans, and 3.52 for LKPD. Based on the results of practicality data analysis, the student response questionnaire showed a very practical category with an average rating of 3.59.
Downloads
Download data is not yet available.
References
Aini, I. N., & Hidayati, N. (2017). Tahap Perkembangan Kognitif Matematika Siswa SMP Kelas VII Berdasarkan Teori Piaget Ditinjau Dari Perbedaan Jenis Kelamin. Jurnal Penelitian Dan Pembelajaran Matematika, 10(2), 25–30. https://doi.org/10.30870/jppm.v10i2.2027
Ariawan, R., & Nufus, H. (2017). Hubungan Kemampuan Pemecahan Masalah Matematis dengan Kemampuan Komunikasi Matematis Siswa. Jurnal THEOREMS (The Original Research of Mathematics), 1(2), 82–91.
Arikunto, S. (2012). Prosedur Penelitian Suatu Pendekatan Praktik. Rineka Cipta.
Armis, A., & Suhermi, S. (2017). Pengembangan Perangkat Pembelajaran Matematika Berbasis Problem Based Learning untuk Siswa Kelas VII Semester 1 SMP/MTs Materi Bilangan dan Himpunan. Al-Khwarizmi : Jurnal Pendidikan Matematika Dan Ilmu Pengetahuan Alam, 5(1), 25–42. https://doi.org/10.24256/akh.v5i1.367
Ayuni, Q., Noer, S. H., & Rosidin, U. (2020). Pengembangan Lembar Kerja Peserta Didik Berbasis Problem Based Learning dalam Meningkatkan Representasi Matematis Siswa. AKSIOMA: Jurnal Program Studi Pendidikan Matematika, 9(3), 694–704. https://doi.org/10.24127/ajpm.v9i3.2747
Daryanto, Dwicahyono, A., & Purwanto, D. (2014). Pengembangan perangkat pembelajaran : (silabus, RPP, PHB, bahan ajar). Gava Media.
Hamdayama, J. (2016). Metodologi Pengajaran. PT Bumi Aksara.
Heleni, S., & Zulkarnain, Z. (2017). Pelaksanaan Kurikulum 2013 pada Bidang Studi Matematika di Sekolah Menengah Pertama Negeri (SMPN) Kota Pekanbaru Tahun Pelajaran 2016/2017. Al-Khwarizmi : Jurnal Pendidikan Matematika Dan Ilmu Pengetahuan Alam, 5(1), 43–54. https://doi.org/10.24256/akh.v5i1.368
Linggar, G., & Budi, M. (2016). Kemampuan Pemecahan Masalah Matematika Aljabar Berbasis TIMSS pada Siswa SMP Kelas VIII. Seminar Nasional Pendidikan Matematika.
Murtikusuma, R. P. (2015). Pengembangan Perangkat Pembelajaran Matematika Model Problem-Based-Learning Berbantuan Media Power Point untuk Siswa Kelas XI SMK Materi Barisan dan Deret. SAINTIFIKA: Jurnal Ilmu Pendidikan MIPA Dan MIPA, 17(2), 20–33.
Nizam. (2016). Ringkasan Hasil-hasil Asesmen Belajar Dari Hasil UN, PISA, TIMSS, INAP. Puspendik.
Novita, R., Zulkardi, & Hartono, Y. (2012). Exploring primary student's problem-solving ability by doing tasks like PISA's question. Journal on Mathematics Education, 3(2), 133–150. https://doi.org/10.22342/jme.3.2.571.133-150
Rusman. (2016). Model-model Pembelajaran: Mengembangkan Profesionalisme Guru Edisi Kedua. Rajawali Pers.
Siregar, H. M., Siregar, S. N., & Solfitri, T. (2021). Persepsi Mahasiswa Pendidikan Matematika Terhadap Pelaksanaan Perkuliahan Online di Masa Pandemi Covid-19. SAP (Susunan Artikel Pendidikan), 6(2), 187–194. https://doi.org/http://dx.doi.org/10.30998/sap.v6i2.9855
Siregar, H. M., Solfitri, T., & Siregar, S. N. (2022). Development of E-Worksheet of Integration Technique Rational Functions Different Linear Factors to Improve Mathematical Creative Thinking Skills. 2021 Universitas Riau International Conference on Education Technology (URICET-2021), 35–40. https://ices.prosiding.unri.ac.id/index.php/ICES/article/view/7975
Siregar, H. M., Solfitri, T., Siregar, S. N., Anggraini, R. D., & Aldresti, F. (2022). Analisis Kebutuhan E-LKM Kalkulus Integral Untuk Meningkatkan Kemampuan Berpikir Kreatif Matematis. RANGE: Jurnal Pendidikan Matematika, 4(1), 55–70. https://doi.org/https://doi.org/10.32938/jpm.v4i1.2664
Sugiyono. (2012). Metode Penelitian Pendidikan (Pendekatan Kuantitatif, Kualitatif, dan R&D). Alfabeta.
Suprihatiningrum, J. (2017). Strategi Pembelajaran: Teori & Aplikasi. Ar-Ruzz Media.
Wahyuni, F. (2017). Pengembangan Perangkat Pembelajaran Berbasis Model Pembelajaran Berdasarkan Masalah untuk Meningkatkan Kemampuan Pemecahan Masalah Matematik Siswa SMP Negeri 3 Sunggal. MES (Journal of Mathematics Education and Science), 2(2), 17–29. https://doi.org/https://doi.org/10.30743/mes.v2i2.127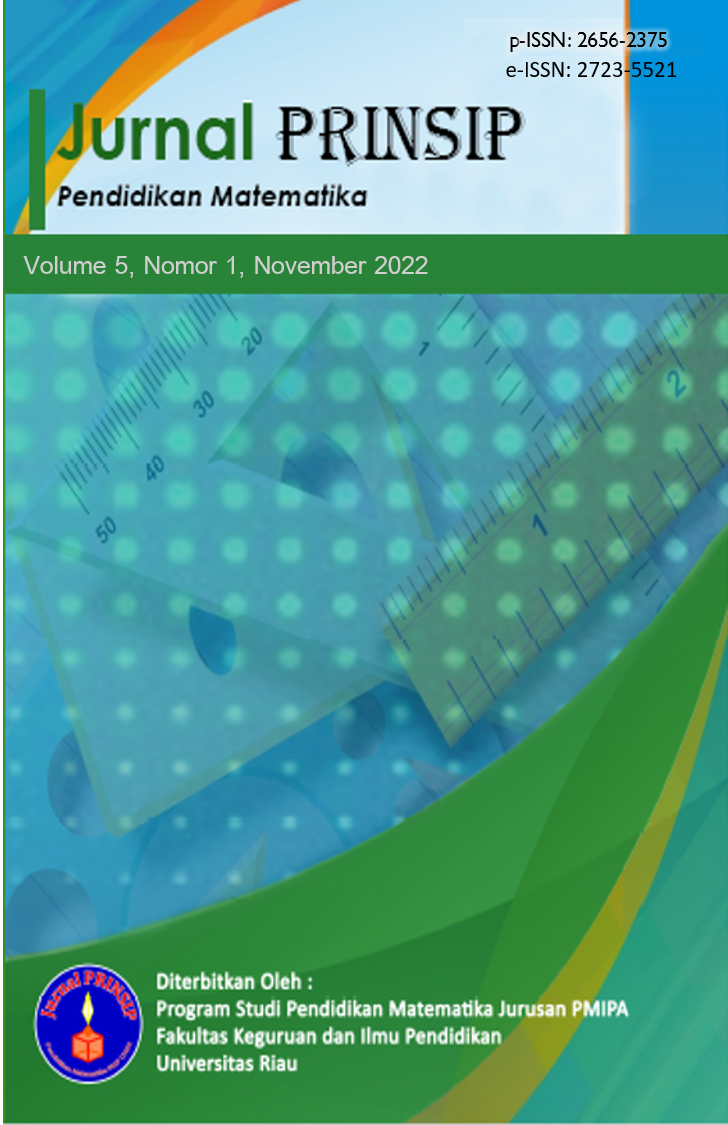 Copyright (c) 2022 Jurnal Prinsip Pendidikan Matematika
This work is licensed under a Creative Commons Attribution-NonCommercial-ShareAlike 4.0 International License.