E-LKS OF POLYHEDRON MATERIAL BASED ON GUIDED DISCOVERY APPROACH TO FACILITATE MATHEMATICAL PROBLEM-SOLVING ABILITY OF JUNIOR HIGH SCHOOL
Ukhti Qodriyani

Pendidikan Matematika, Universitas Riau

Susda Heleni

Pendidikan Matematika, Universitas Riau
Abstract
This study aims to produce Electronic-based Student Worksheets (E-LKS) using a Guided Discovery approach on f polyhedron material based that are valid, practical, and potentially affect the Mathematical Problem-Solving Ability (KPMM) of junior high school. The research method used in this research is Research and Development using a 4-D development model consisting of four stages: Define, Design, Development, and Disseminate. Data collection techniques used include validation questionnaires, student response questionnaires, and documentation. This research involved students of class VIII MTs YASMI and IX MTs YASMI. The results showed that E-LKS has been valid from the quality of presentation, technical requirements, didactic requirements, construction requirements, and KPMM aspects with very valid criteria based on expert comments at the Expert Review and One-to-One stages. Next, the implementation of E-LKS at the Small Group and Field Test stage shows the practicality of E-LKS with very practical criteria. This can be seen from E-LKS, which is easy to read and use, and E-LKS can add enthusiasm to learning. The conclusion is that E-LKS uses a Guided Discovery approach to polyhedron material based to facilitate KPMM for junior high school students and has been valid and practically used in the learning process.
Downloads
Download data is not yet available.
References
Afifah, A. (2021). Metode Guided Discovery dalam Pembelajaran Matematika Pendekatan Riset. Syiah Kuala University Press.
Bidasari, F. (2017). Pengembangan Sol Matematika Model PISA pada Konten Quantity untuk Mengukur Kemampuan Pemecahan Masalah Matematika Siswa Sekolah Menengah Pertama. Jurnal Gantang, 2(1), 63–78. https://doi.org/10.31629/jg.v2i1.59
Dwi Prastiwi, M., & Nurita, T. (2018). Kemampuan Pemecahan Masalah Pada Siswa Kelas VII SMP. PENSA E-JURNAL: PENDIDIKAN SAINS, 6(2), 98–103.
Effendi, D., & Wahidy, A. (2019). Pemanfaatan Teknologi dalam Proses Pembelajaran Menuju Pembelajaran Abad 21. Prosiding Seminar Nasional Pendidikan Program Pascasarjana Universitas PGRI Palembang, 125–129. https://jurnal.univpgri-palembang.ac.id/index.php/Prosidingpps/article/view/2977
Hendriana, H., Eti Rohaeti, E., & Sumarmo, U. (2018). Hard Skills dan Soft Skills Matematika Peserta Didik. PT Refika Aditama.
Kasim. (2020). Implementasi Model Pembelajaran Guided Discovery untuk Meningkatkan Aktivitas dan Hasil Belajar Peserta Didik SMA Negeri 2 Pekanbaru. Perspektif Pendidikan Dan Keguruan, 11(1), 50-56. https://doi.org/10.25299/perspektif.2020.vol11(1).4816
Maharani, K., Ratri, D., & Ekana, H. (2018). Pengembangan Lembar Kegiatan Siswa Berbasis Guided Discovery pada Materi Bangun Ruang Sisi Datar Siswa Kelas VIII SMP Negeri 14 Surakarta. Journal of Mathematics and Mathematics Education, 8(2), 174–185. https://doi.org/10.20961/jmme.v8i2.26144
Marinda, L. (2020). Teori Perkembangan Kognitif Jean Piaget Dan Problematikanya Pada Anak Usia Sekolah Dasar. An-Nisa': Jurnal Kajian Perempuan Dan Keislaman, 13(1), 116–152. https://dx.doi.org/10.35719/annisa.v13i1.26
Maya, Y., Ibrahim, L., & Safrina, K. (2019). Penerapan Model Pembelajaran Guided Discovery Learning (GDL) untuk Meningkatkan Hasil Belajar pada Siswa SMPN I Bandar Baru. Al Khawarizmi: Jurnal Pendidikan Dan Pembelajaran Matematika, 2(2), 181–191. http://dx.doi.org/10.22373/jppm.v2i2.4507
Nur Melati Fitriasari, & Yuliani. (2021). Pengembangan Lembar Kegiatan Peserta Didik-Elektronik (E-LKPD) Berbasis Guided Discovery untuk Melatih Keterampilan Proses Sains Terintegrasi pada Materi Fotosintesis Kelas XII SMA. Berkala Ilmiah Pendidikan Biologi (BioEdu), 10(3), 510–522. https://doi.org/10.26740/bioedu.v10n3.p510-522
PISA 2018 Results (Volume I). (2019). OECD. https://doi.org/10.1787/5f07c754-en
Ramelan, M., & Murdiyani, N. M. (2017). Pengembangan LKS Trigonometri dengan Pendekatan Guided Discovery untuk SMA Kelas X. Seminar Matematika Dan Pendidikan Matematika UNY, 427–434. http://eprints.uny.ac.id/49474/
Septianingsi, B. D., Bharata, H., & Gunowibowo, P. (2018). Pengaruh Model Pembelajaran Guided Discovery terhadap Peningkatan Kemampuan Pemecahan Masalah Matematis Siswa. Jurnal Pendidikan Matematika UNILA, 6(7), 717–728. http://jurnal.fkip.unila.ac.id/index.php/MTK/article/view/17057
Sri Sumartini, T. (2016). Peningkatan Kemampuan Pemecahan Masalah Matematis Siswa melalui Pembelajaran Berbasis Masalah. Mosharafa, 5(2), 148–158. https://doi.org/10.31980/mosharafa.v5i2.270
Sugiyono. (2019). METODE PENELITIAN PENDIDIKAN (Pendekatan Kuantitatif, Kualitatif, dan R&D). Alfabeta.
Syahril, N. N., & Jalinus, N. (2019). Buku Model Blended Learning. Unilak Press.
Zainal, A. (2012). Evaluasi Pembelajaran. Subdit Kelembagaan Direktorat Pendidikan Tinggi Islam.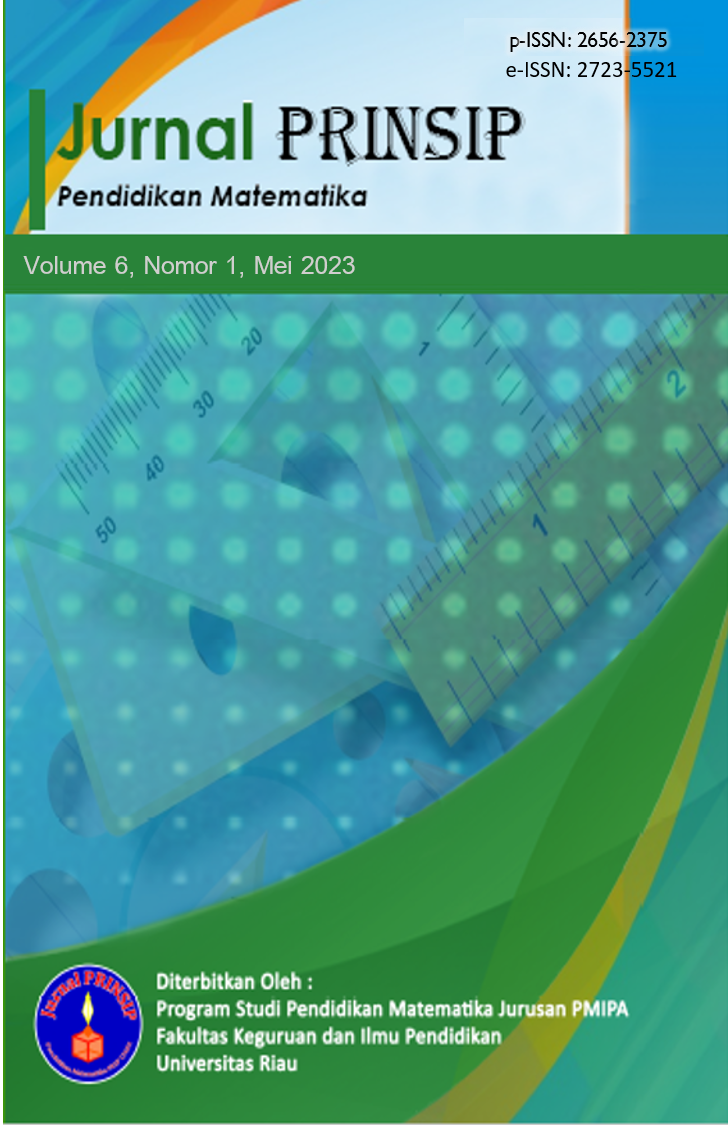 Copyright (c) 2023 Jurnal Prinsip Pendidikan Matematika
This work is licensed under a Creative Commons Attribution-NonCommercial-ShareAlike 4.0 International License.