DEVELOPMENT OF MATHEMATICS LEARNING DEVISES ON DISCOVERY LEARNING MODEL ON SQUARE AND TRIANGLE MATERIAL FOR THE SEVENTH GRADE STUDENT OF JUNIOR HIGH SCHOOL
Meiana Faniyanti

Pendidikan Matematika, Universitas Riau

Syofni

Pendidikan Matematika, Universitas Riau

Sakur

Pendidikan Matematika, Universitas Riau
Abstract
This research is motivated by the limited mathematics learning tools that are in accordance with the 2013 curriculum. The aim of this research is to produce learning tools in the form of a syllabus, lesson plans (RPP), and student activity sheets (LAS) using discovery learning models in the material of class VII quarters and triangles. SMP / MTs. The development model used in this study is the 4-D model which consists of four stages of development, namely defining, designing, developing, and distributing. Data collection using practical instruments. The learning tools that have been developed are validated by three expert validators. The findings of the study revealed that the results of the syllabus validation analysis were 3.79 or very valid categories, RPP were 3,87 or very valid categories and LAS were 3.82 or very valid categories. The results of this validation analysis indicate that the syllabus, lesson plans, and LAS are considered valid. Furthermore, the results of the practicality trial in the small group for LAS were 3.50 or very practical category. The conclusion of this study is that the mathematics learning tools developed using the discovery learning model in the material of Quadrilateral and Triangles of class VII SMP / MTs which include syllabus, lesson plans and LAS are valid and feasible to use.
Downloads
Download data is not yet available.
References
Akbar, S. (2013). Instrumen perangkat pembelajaran. Remaja Rosdakarya
Arikunto, S. (2010). Prosedur penelitian suatu pendekatan praktek. Rineka Cipta
Daryanto & Karim, S. (2017). Pembelajaran abad 21. Gava Media
Fanani, A., & Kusmaharti, D. (2018). Pengembangan perangkat pembelajaran berbasis HOTS (Higher Order Thinking Skill) di Sekolah Dasar kelas V. Jurnal Pendidikan Dasar, 9(1), 1-11. https://doi.org/10.21009/10.21009/JPD.081
Karim, A. (2011). Penerapan Metode Penemuan Terbimbing dalam pembelajaran matematika untuk meningkatkan pemahaman konsep dan kemampuan berfikir kritis siswa Sekolah Dasar. Jurnal Riset (Edisi Khusus), 1, 21–32
Lestari, K. E., & Yudhanegara, M. R. (2017). Penelitian pendidikan matematika. Refika Aditama
Muhassanah, N., Sujadi, I., & Riyadi. (2014). Analisis keterampilan geometri siswa dalam memecahkan masalah geometri berdasarkan tingkat berpikir Van Hiele. Jurnal Pembelajaran Matematika, 2(1), 54-66
Ningsih, F. (2016). Pengembangan perangkat pembelajaran matematika berbasis Kurikulum 2013 pada materi pokok Segiempat melalui penerapan Pembelajaran Berdasarkan Masalah. Jurnal Online Mahasiswa FKIP, 3(2), 1-12
Sufairoh. (2016). Pendekatan Saintifik dan model pembelajaran K-13. Jurnal Pendidikan Profesional, 5(3), 116-125
Suhadi. (2007). Petunjuk perangkat pembelajaran. Universitas Muhamadiyah
Trianto. (2014). Mendesain model pembelajaran inovatif, progresif, dan kontekstual. Prenada Media Group
Trianto. (2015). Model pembelajaran terpadu: Konsep, strategi, dan implementasinya dalam kurikulum tingkat satuan pendidikan (KTSP). Bumi Aksara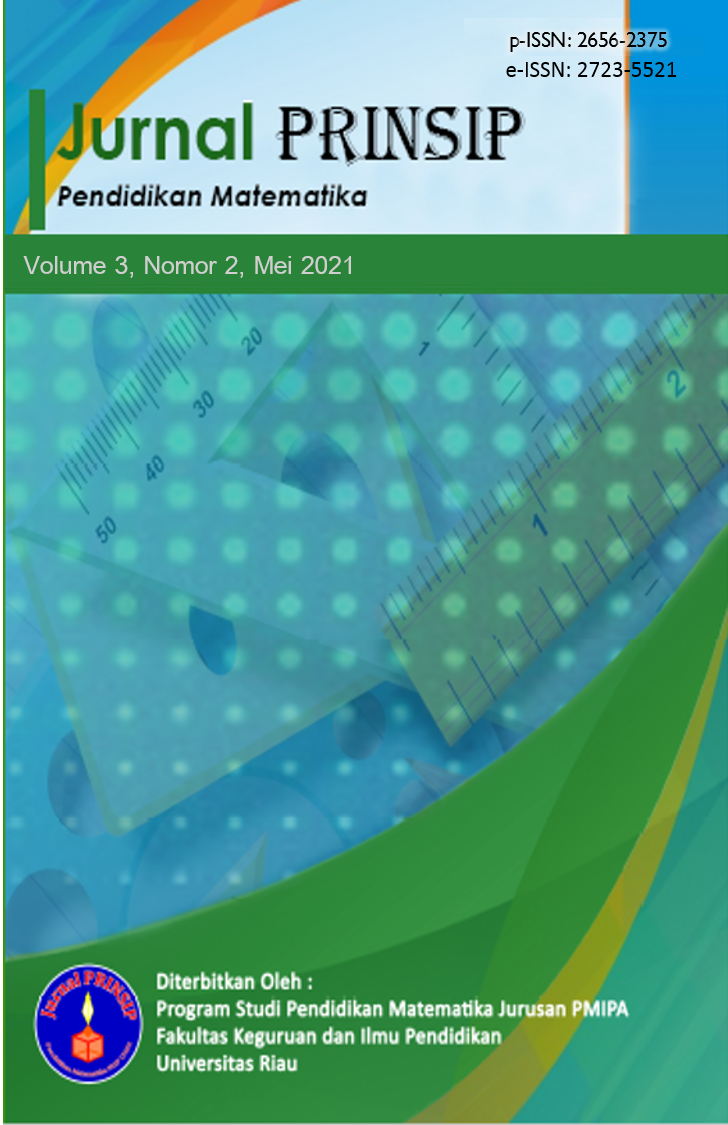 Copyright (c) 2021 Jurnal Prinsip Pendidikan Matematika
This work is licensed under a Creative Commons Attribution-NonCommercial-ShareAlike 4.0 International License.