LEARNING INDEPENDENCE OF BIOLOGICAL EDUCATION STUDENTS IN CALCULUS COURSE ONLINE REVIEWED BY GENDER
R. H. Yanti Silitonga

Universitas Pattimura
Abstract
This research was conducted to determine the independence of student learning in calculus courses conducted online based on gender. This type of research is descriptive quantitative. The subjects in this study were 34 biology education students. There are 4 male students and 30 female students. Methods of data collection using a scale of learning independence. The results showed that there were significant differences in the learning independence of male and female students. Female students outperform male students for all indicators of independent learning. The percentage of the average score of male students 'learning independence was 59.37, while the percentage of the average score of female students' learning independence reached 66.54.
Keywords :
Downloads
Download data is not yet available.
References
Agustina, L. ., Sobari, T., & Yuliani, W. (2019). Profil Kemandirian Belajar Peserta idik Kelas VIII SMPN 1 Pakenjeng. 2(4), 138–146.
Arista, F. S., & Kuswanto, H. (2018). Virtual physics laboratory application based on the android smartphone to improve learning independence and conceptual understanding. International Journal of Instruction, 11(1), 1–16. https://doi.org/10.12973/iji.2018.1111a
Badjeber, R. (2020). Kemandirian Belajar Mahasiswa Tadris Matematika Ftik Iain Palu Selama Masa Pembelajaran Daring. Koordinat Jurnal MIPA, 1(1), 1–9. https://doi.org/10.24239/kjpm.v1i1.1
Baist, A., Pradja, B. ., & Pamungkas, A. . (2019). Kemandirian Belajar Mahasiswa Pada Mata Kuliah Aljabar Vektor. October.
Dirgantoro, K. P. . (2014). Pembelajaran Matematika Dengan Pendekatan M-APOS Untuk Meningkakan Kompetensi Strategis Dan Kemandirian Belajar Siswa. Universitas Pendidikan Indonesia.
Fatah, A., Suryadi, D., Sabandar, J., & Turmudi, T. (2016). Open-Ended approach: An effort in cultivating students' mathematical creative thinking ability and self-esteem in mathematics. Journal on Mathematics Education, 7(1), 9–18. https://doi.org/https://doi.org/10.22342/jme.7.1.2813.9-18
Fauzi, A. (2011). Peningkatan Kemampuan Koneksi Matematis Dan Kemandirian Belajar Siswa Dengan Pendekatan Pembelajaran Metakognitif Di Sekolah Menengah Pertama. International Seminar and the Fourth Natiobal Conference on Mathematics Education 2011 "Building the Nation Character through Humanistic Mathematics Education," 109–122.
Friantini, R. N., & Winata, R. (2020). Disposisi Matematis dan Kemandirian Belajar Mahasiswa Pada Perkuliahan aring Berbantuan Google Classroom Masa Covid. 7(2), 53–64.
Hidayati, K., & Listyani, E. (2010). Pengembangan Instrumen Kemandirian Belajar Mahasiswa. Jurnal Penelitian Dan Evaluasi Pendidikan, 14(1), 85–99. https://doi.org/10.21831/pep.v14i1.1977
Hikmah, Z. N., Khairunnisa, R. A., & Nuriadin, I. (2020). Profile of Learning Independence in Achieving Creative Thinking Ability of Vocational School Students. JIPM (Jurnal Ilmiah Pendidikan Matematika), 9(1), 12–20. https://doi.org/10.25273/jipm.v9i1.5859
Mauludin, A., & Nurjaman, A. (2018). Pengaruh Self Regulated Learning Terhadap Kemampuan Berpikir Kreatif Matematis Siswa SMA. JPMI (Jurnal Pembelajaran Matematika Inovatif), 1(2), 193. https://doi.org/10.22460/jpmi.v1i2.p193-200
Mulyono, D. (2017). The influence of learning model and learning independence on mathematics learning outcomes by controlling students â€TM early ability. International Electronic Journal of Mathematics Education, 12(3), 689–708. https://www.iejme.com/download/the-influence-of-learning-model-and-learning-independence-on-mathematics-learning-outcomes-by.pdf
Nurkholis, E., Miarsyah, M., & Indrayanti, R. (2018). The Influence of Self-Efficacy and Learning Independence Againts The Outcomes of The Study Material on Ecosystem Biology High School Student of Grade X. Indonesian Journal of Science and Education, 2(1), 75. https://doi.org/10.31002/ijose.v2i1.597
O'Rourke, B., & Carson, L. (2010). Language learner autonomy: Policy, curriculum, classroom. Peter Languange.
Rustaman, N. Y. (2011). Strategi belajar mengajar Biologi. Universitas Pendidikan Indonesia.
Sari, E. N., & Zamroni, Z. (2019). The impact of independent learning on students' accounting learning outcomes at vocational high school. Jurnal Pendidikan Vokasi, 9(2), 141–150. https://doi.org/10.21831/jpv.v9i2.24776
Schunk, D. H. (2012). Learning theories: An educational perspective. Pearson. http://www.amazon.com/Learning-Theories-Educational-Perspective-6th/dp/0137071957
Shofwah, N., Nindiasari, H., & Syamsuri. (2020). Analisis Kemandirian Belajar Siswa Berdasarkan Gender di. 2, 163–176.
Sitorus, J., & Masrayati. (2016). Students' creative thinking process stages: Implementation of realistic mathematics education. Thinking Skills and Creativity, 22, 111–120. https://doi.org/10.1016/j.tsc.2016.09.007
Suningsih, A., & Putri, A. K. (2017). Hubungan Kemandirian Belajar Dan Hasil Belajar Mahasiswa Pada Mata Kuliah Kalkulus Lanjut. Eksponen, 7(2), 11–17. https://doi.org/10.47637/eksponen.v7i2.144
Syahputra, D. (2017). Pengaruh kemandirian belajar dan bimbingan belajar terhadap kemampuan memahami jurnal penyesuaian pada siswa SMA Melati Perbaungan. At-Tawwasuth: Jurnal Ekonomi Islam, 2(2), 368–388. https://doi.org/10.30821/ajei.v2i2.1227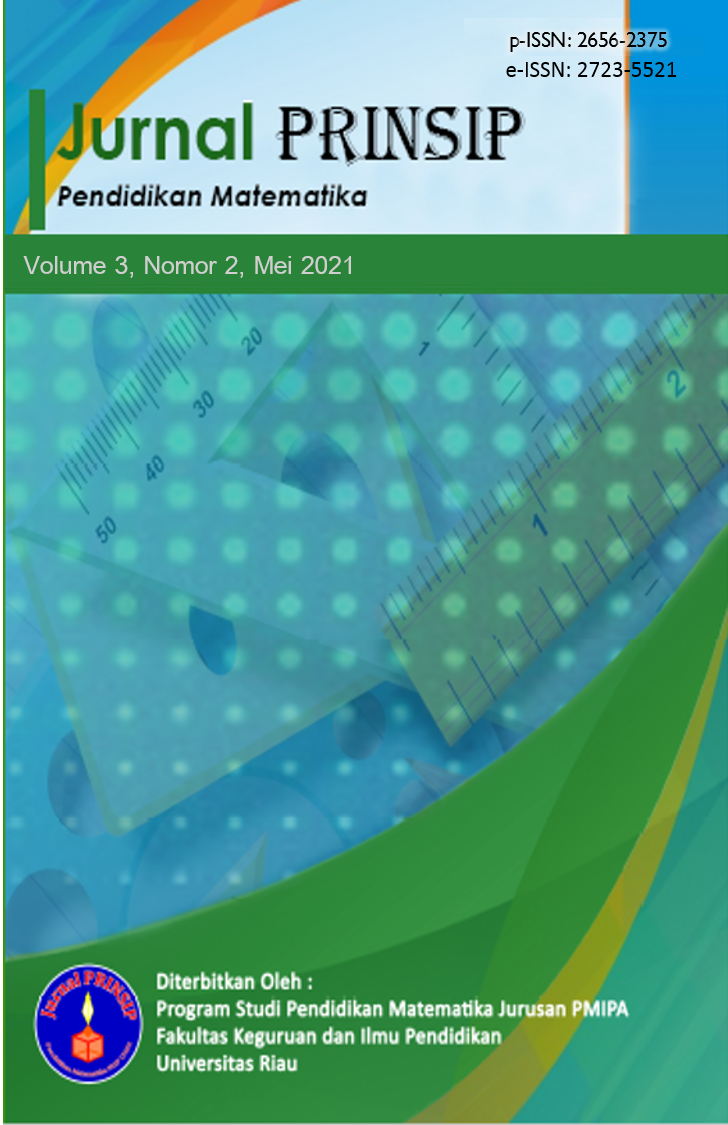 Copyright (c) 2021 Jurnal Prinsip Pendidikan Matematika
This work is licensed under a Creative Commons Attribution-NonCommercial-ShareAlike 4.0 International License.