ANALYSIS OF STUDENTS ERROR IN CLASS VIII A MTs DARUL HIKMAH IN SOLVING PROBLEMS ON THE RELATION AND FUNCTIONS MATERIALS
Sisi Nurwahyuni

Pendidikan Matematika, Universitas Riau

Eli Marnis

MTs Darul Hikmah Pekanbaru
Keywords:
Error analysis, Relations and Functions, Solving problems
Abstract
This research aims to know the students' mistakes on MTs Darul Hikmah Pekanbaru in solving questions relations and functions materials. This research was conduted in MTs Darul Hikmah Pekanbaru in the odd semester of Academic Year 2020/2021. This research uses a descriptive method with research form is a case study. Subjects in the study were four students. The analysis was made with the interview and discussion. Based on the results of research, it can be concluded that's is types of student errors are  in facts, concepts, and procedures.
Downloads
Download data is not yet available.
References
Ardiawan, Y. (2015). Analisis Kesalahan mahasiswa dalam menyelesaikan soal induksi matematika di IKIP PGRI Pontianak. Jurnal Pendidikan Informatika dan Sains, 4(1), 147–163. Retrieved from https://journal.ikippgriptk.ac.id/index.php
Duha, A. K. (2012). Penerapan model Think Pair Share terhadap pemahaman konsep. Jurnal Pendidikan Matematika, 1(1), 8–12.
Hudoyono. (2013). Pengembangan pembelajaran matematika. Jakarta: Departemen Pendidikan Nasional.
Imswatama, A., & Muhassanah, N. (2016). Analisis kesalahan mahasiswa dalam menyelesaikan soal geometri analitik bidang materi Garis dan Lingkaran. Suska Journal of Mathematics Education, 2(1), 1. https://doi.org/10.24014/sjme.v2i1.1368
Lutfia, A. (2021). Analisis kesalahan siswa dalam menyelesaikan soal matematika materi Lingkaran. Innovative: Journal of Social Science Research, 1(1), 32–35.
Malidje, F. A., Sugita, G., & Sukayasa. (2020). Analisis kesalahan koneksi matematis siswa pada materi Limit Fungsi Aljabar di kelas XI IPA 2 MAN 1 Palu. Jurnal Elektronik Pendidikan Matematika Tadulako, 8(2), 168–178.
Meilanawati, P., & Pujiastuti, H. (2020). Analisis kesalahan mahasiswa mengerjakan soal teori bilangan menurut tahap Kastolan ditinjau dari gender. MAJU : Jurnal Ilmiah Pendidikan Matematika, 7(2), 182–190.
Nalole, M. (2007). Pembelajaran fungsi melalui pemecahan masalah pada mahasiswa semester 1 D-II PGSD Jurusan Pendidikan Anak Fakultas Ilmu Pendidikan. Gorontalo: Universitas Negeri Gorontalo.
Nawawi, H. (2012). Metode penelitian bidang sosial. Yogyakarta: Gajah Mada University Press.
Poerwadarminta, W. J. S. (2006). Kamus Besar Bahasa Indonesia. Jakarta: Balai Pustaka.
Prawiradilaga, D. S., Istiany, A., & Ariani, D. (2015). Penerapan prinsip disain pembelajaran dan learning object untuk situs kelas maya mata kuliah Gizi Terapan. Jurnal Teknodik, 18(1), 95–112. https://doi.org/10.32550/teknodik.v18i1.115
Purba, D., Zulfadli, & Lubis, R. (2021). Pemikiran George Polya tentang pemecahan masalah. Mathematic Education Journal, 4(1), 25–31.
Siregar, H. M. (2019). Analisis kesalahan siswa dalam menyelesaikan soal tes kemampuan berpikir kreatif matematis materi Lingkaran. AKSIOMA: Jurnal Program Studi Pendidikan Matematika, 8(3), 497–507. https://doi.org/10.24127/ajpm.v8i3.2379
Soedjadi, R. (2000). Kiat pendidikan matematika di Indonesia. Jakarta: Direktorat Jendral Pendidikan Tinggi.
Solfitri, T., & Maimunah. (2018). Analysis of students errors in application Integrals materials. Proceedings of the UR International Conference on Educational Sciences, 683–689. Pekanbaru: Faculty of Teacher Training and Education, Universitas Riau.
Sugiyono. (2015). Metode Penelitian pendidikan pendekatan kuantitatif, kualitatif, dan R&D. Bandung: Alfabeta.
Sunarsi, A. (2009). Analisis kesalahan dalam menyelesaikan soal pada materi Luas Permukaan Serta Volume Prisma dan Limas pada siswa kelas VIII semester Genap SMP Negeri 2 Karanganyar Tahun Pelajaran 2008/2009. Surakarta: FKIP UNS.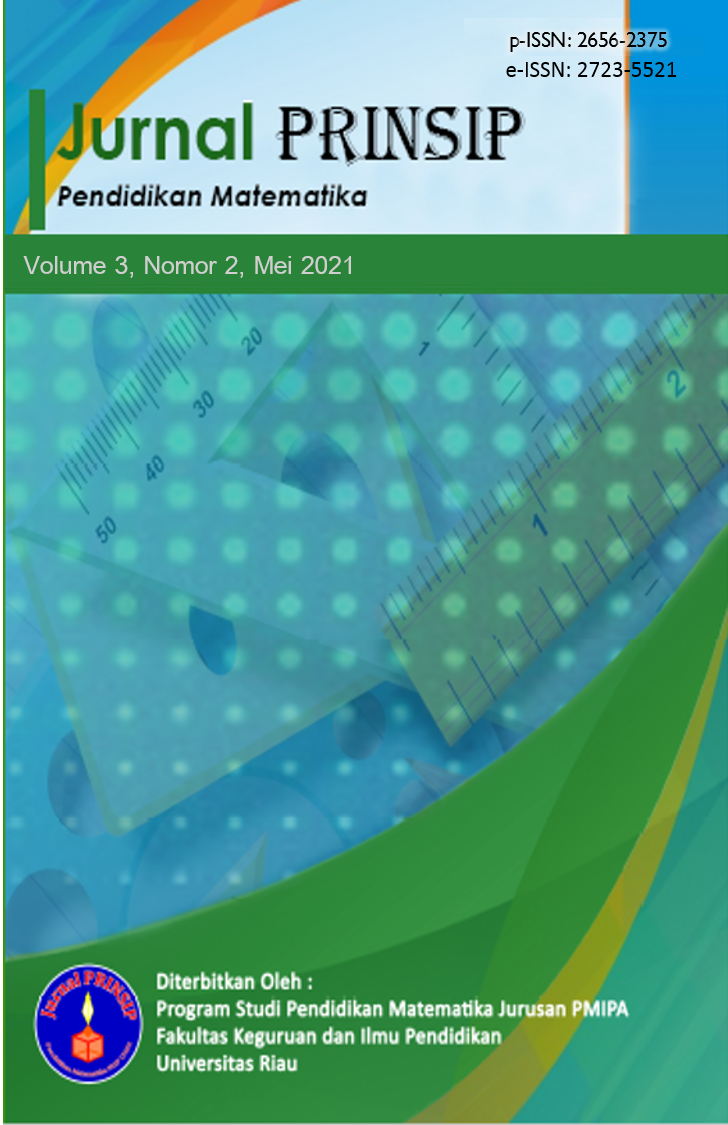 Copyright (c) 2021 Jurnal Prinsip Pendidikan Matematika
This work is licensed under a Creative Commons Attribution-NonCommercial-ShareAlike 4.0 International License.