THE APPLICATION OF PROBLEM-BASED LEARNING MODELS TO IMPROVE MATHEMATICS LEARNING OUTCOMES FOR STUDENTS OF CLASS XII IPA 6 SMA NEGERI 4 PEKANBARU
Citra Aries

SMA Negeri 4 Pekanbaru
Keywords:
Classroom action research, Learning outcomes of mathematics, Learning process, Problem-Based Learning, Problem Solving Strategy
Abstract
This classroom action research aims to improve the learning process and improve mathematics learning outcomes by applying problem-solving strategies through problem-based learning. The subjects of this study were students of class XII IPA 6 SMA Negeri 4 Pekanbaru, totaling 38 students with academic ability levels heterogeneous. This study consisted of two cycles consisting of four stages, namely planning, implementation, observation, and reflection. Data collection was carried out through observations of teacher and students activities and learning outcomes tests in daily tests. There is an improvement towards a better direction in the learning process after problem-solving strategies through problem-based learning. This can be seen in students who participate actively and are more responsible in the learning process, such as discussing, presenting, expressing opinions, and asking questions to provide a learning conclusion. The number of students who achieved the KKM on the basic score, daily test I (first cycle), daily test II (second cycle) was 47,36%, 65,78%, and 92,10%, respectively. The percentage of KKM achievement also shows an increase from before to after the action, so that it can be said that student learning outcomes also increase. The results of this study indicate that the application of problem solving strategies through problem-based learning can improve the learning process and improve mathematics learning outcomes for students of grade XII science 6 SMA Negeri 4 Pekanbaru.
Downloads
Download data is not yet available.
References
Sadiman, A.S., Rahardjo, Haryono, A., & Harjito. (2012). Media pendidikan: pengertian, pengembangan, dan pemanfaatannya. Rajawali Pers.
Choridah, D. T. (2013). Peran Pembelajaran Berbasis Masalah untuk meningkatkan kemampuan komunikasi dan berpikir kreatif serta disposisi matematis siswa SMA. Infinity Journal, 2(2), 194–202. https://doi.org/10.22460/infinity.v2i2.p194-202
Fahradina, N., Ansari, B. I., & Saiman. (2014). Peningkatan kemampuan komunikasi matematis dan kemandirian belajar siswa SMP dengan menggunakan model Investigasi Kelompok. Jurnal Didaktik Matematika, 1(1), 54 - 64
Hadi, S., & Novaliyosi, N. (2019). TIMSS Indonesia (Trends In International Mathematics And Science Study). Prosiding Seminar Nasional & Call For Papers, 0(0). http://jurnal.unsil.ac.id/index.php/sncp/article/view/1096
Hamdani, H. (2009). Pengembangan pembelajaran dengan Mathematical Discourse dalam meningkatkan kemampuan komunikasi matematik pada siswa Sekolah Menengah Pertama. Seminar Nasional Matematika Dan Pendidikan Matematika Jurusan Pendidikan Matematika FMIPA UNY 5 Desember 2009, 163 - 173
Kumalaretna, W. N. D., & Mulyono, M. (2017). Kemampuan komunikasi matematis ditinjau dari karakter kolaborasi dalam Pembelajaran Project Based Learning (Pjbl). Unnes Journal of Mathematics Education Research, 6(2), 195–205.
Lestari dan Yudhanegara. (2017). Penelitian pendidikan matematika. PT. Rafika Aditama.
Liliasari dan Rahmatan. (2012). Pengetahuan awal calon guru Biologi tentang konsep Katabolisme Karbohidrat. Jembrana.
Mulyana, Y., Priyatno, S., & Dewi, N. R. (2018). Penerapan model SSCS untuk meningkatkan kemampuan membuat model matematis dan kerja sama siswa. PRISMA, Prosiding Seminar Nasional Matematika, 1, 225–232.
Nufus, H., & Ariawan, R. (2017). Keterkaitan hubungan antara kemampuan komunikasi dan penalaran matematis siswa. Symmetry: Pasundan Journal of Research in Mathematics Learning and Education, 2(1), 29–42. https://doi.org/10.23969/symmetry.v2i1.240
Nurapriani, F. (2016). Meningkatkan kemampuan komunikasi dan koneksi matematik siswa SMP melalui strategi Think Talk Write. Buana Ilmu, 1(1), 45 - 55. https://doi.org/10.36805/bi.v1i1.97
Qonaah, A., Pujiastuti, H., & Fatah, A. (2019). Pengaruh Model Pembelajaran Generatif terhadap peningkatan kemampuan komunikasi matematis ditinjau dari kemampuan awal matematis siswa. Edumatica : Jurnal Pendidikan Matematika, 9(1), 9–14. https://doi.org/10.22437/edumatica.v9i1.6109
Rhozy, F., Darvina, Y., & Murtiani, M. (2016). Pengaruh penerapan model pembelajaran Search, Solve, Create and Share (SSCS) berbantuan bahan ajar bermuatan karakter untuk meningkatkan hasil belajar fisika siswa kelas XI SMAN 12 Padang. Pillar of Physics Education, 7(1), 81 - 88. https://doi.org/10.24036/1993171074
Risnawati. (2008). Strategi pembelajaran matematika. Suska Press.
Ruslan, & Santoso. (2013). Pengaruh pemberian soal Open-Ended terhadap kemampuan penalaran matematis siswa. Kreano, Jurnal Matematika Kreatif-Inovatif, 4(2), 138 - 150.
Satriawan, R. (2017). Keefektifan model Search, Solve, Create, and Share ditinjau dari prestasi, penalaran matematis, dan motivasi belajar. Jurnal Riset Pendidikan Matematika, 4(1), 87–99. https://doi.org/10.21831/jrpm.v4i1.7863
Son, A.L. (2015). Pentingnya kemampuan komunikasi matematika bagi mahasiswa calon guru matematika. Journal Universitas Wiralodra, 7(1), 33 - 40
Sumaryanta, S., Priatna, N., & Sugiman, S. (2019). Pemetaan hasil Ujian Nasional matematika. Ideal Mathedu: Indonesian Digital Journal of Mathematics and Education, 6(1), 543–557
Umar, W. (2012). Membangun kemampuan komunikasi matematis dalam pembelajaran matematika. Infinity Journal, 1(1), 1–9. https://doi.org/10.22460/infinity.v1i1.p1-9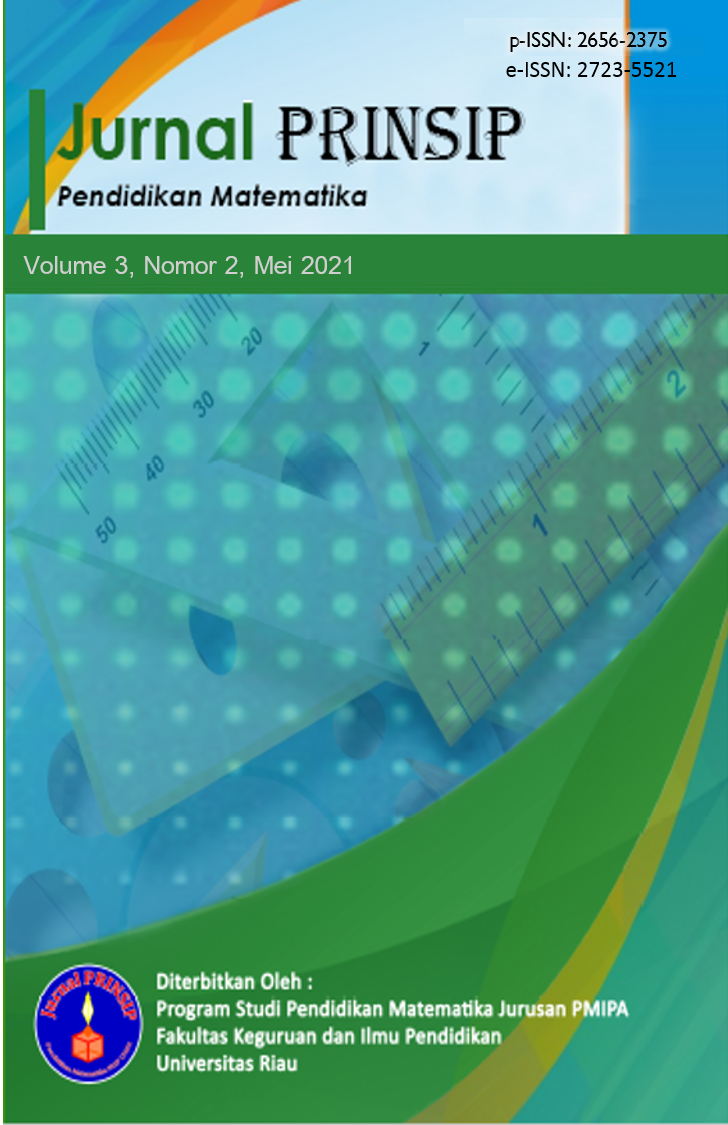 Copyright (c) 2021 Jurnal Prinsip Pendidikan Matematika
This work is licensed under a Creative Commons Attribution-NonCommercial-ShareAlike 4.0 International License.